SUNY ESF


Transfer Student Pursues Goals with the Help of Scholarships
Twiggy Cheyenne Mendenhall's path is unique and inspiring. Unsure of how to navigate the college process, she instead entered the workforce after high school and moved to Chicago. After encountering barriers to career advancement without a college degree, she enrolled in the City Colleges of Chicago's Harry S. Truman College.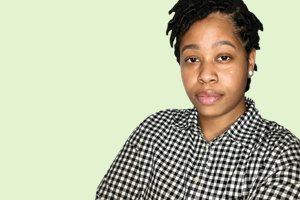 Twiggy took a solar jobs-training program she heard about in one of her classes that turned out to be an eye-opening experience. She learned that green energy could help address energy insecurity. This struck a chord with Twiggy, who grew up in a family that at times couldn't afford to pay utility bills and had the power shut off . She was intrigued by the concept and, after graduating from community college, decided to pursue a bachelor's degree to make working in the environmental field her life's work.
Twiggy wanted an online program that could offer flexibility and she found ESF's Sustainability Management Program after searching the web. Upon admission, she learned she was the recipient of a Presidential Scholarship and Diversity Scholarship both of which are awarded on a combination of outstanding academic credentials, accomplishments, and financial need.
"A big part of why I went to ESF was the affordability of it. It's very affordable school when you look at every other program in the country," she explained. "New York state does a great job with tuition costs. I don't have a family contribution—everything I pay is by myself, so I'm really grateful for the scholarships. It's a big weight off my shoulders that I don't have to worry about trying to find funds while studying."
And, she adds: "All of the faculty and staff in the program have been amazingly supportive."
The Sustainability Management Program's online format has enabled her to do a paid internship sponsored by the New York State Energy Research and Development Authority (NYSERDA) at Ecogy Energy, a company that specializes in the proliferation of distributed energy resources in the United States. It was exactly the type of opportunity Twiggy has been wanting, and she's excited to be working in the field at the same time she's earning her degree.
"This is a great program. Not only does it give me a flexible schedule to work during the day, it's very technical and we get to do things like building energy analysis and QGIS that I haven't seen in other programs," she said.
Twiggy graduated in December 2022 with a job offer on the table. Her goal is to help build a more energy-efficient future for the world. While her path has been unconventional, it's been just right for her.
"I'm a big advocate for community college—it pivots people to a different place in their lives where they can gain confidence and experience," she said. "For ESF to consider transfer students for scholarships is critical for somebody like me making such a drastic change in life. Shout-out to ESF for ensuring that we have those opportunities."