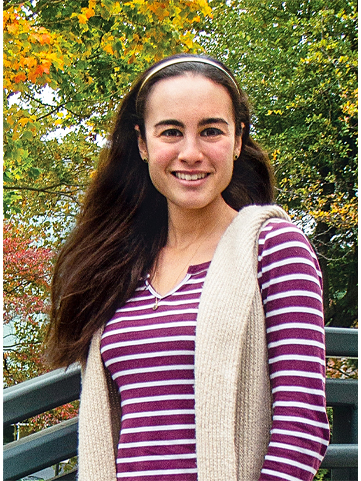 For a person in the sustainable energy field, the chance to work at the National Renewable Energy Lab (NREL) is "the Holy Grail of renewable energy," according to graduate student Jenny Frank.
Frank, who is working on her Ph.D. in techno-economic analysis, spent the summer as an intern at NREL in Colorado where research, development, commercialization and deployment of renewable energy and energy efficiency technologies is undertaken.
"Literally, anything in the sustainable energy field that you can think of, they have done or are currently doing," said Frank.
Not only did Frank have the opportunity to explore future career options, she was also offered a full-time research position after she finishes her coursework in December. "I'll go back out in January and continue to work on my dissertation and also work at the national lab."
Frank was a recipient of the Farnsworth Fellowship, which she credits for "helping her tremendously" with the NREL internship.
"It helped me not only move to Colorado for the summer and get settled, but also enabled me to pursue a passion of mine in terms of research and expand my knowledge through the internship," said Frank.
The fellowship also enabled her to attend conferences to present her research and network with professionals and peers in the field and academia. "It helped me expand my horizons," she said. "I wouldn't be able to do that without funding because these conferences are costly in terms of registration fees, lodging and transportation."
Resources such as the Farnsworth Fellowship are a tremendous benefit. "They help graduate students expand their horizons, get their research out and communicate it to the general public and experts in the field," she said.
Frank is grateful for the generosity of ESF donors. "It not only helps financially but also validates the work we're doing as graduate students in that the work we're doing is valued by not just ourselves, but by the institution and its alumni."
"These donors are leaving a legacy behind that helps students like me and students who will be coming to this school in the future," she said.