Office of Development


Marco Sciortino '26
Anywhere Marco Sciortino goes, he finds new friends at ESF. He's grateful for these simple events that sweeten his freshman experience. "I turned around on my floor and met a friend, and we've been friends ever since. My roommate didn't know many people so I introduced him to an ESF friend group on Snapchat. I was worried I wasn't going to make friends, but I did. I love it here."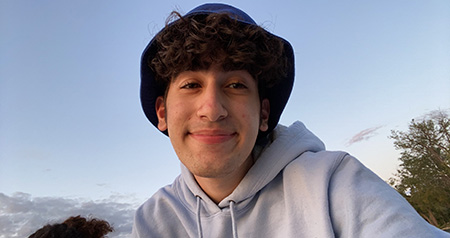 Sciortino relishes the independence that ESF provides him, not only socially and financially but also academically. At his Long Island high school, he contemplated going into forensics, but he found his true calling in ESF's chemistry and biology labs. "I like the procedures, the experiments, the collaboration. I feel supported here. I can develop into a research scientist here. I want to become a biochemist so I can save people's lives," he asserts. Reinforcing his commitment, he's pursuing research in Deb Driscoll's inorganic spectroscopy lab.
When Sciortino was in high school, his mother got cancer and had to go on disability, ensuring the family didn't have money to pay for college. Scholarships enable him not only to attend ESF, but to thrive here. "I can focus on my work and get good grades because I can study and not have to work an outside job. I work at Target when I'm not at school to support my family, but the scholarships really changed my life because I wouldn't have been able to afford the bill without them."
Sciortino has an especially poignant message for donors. "Thank you truly from the bottom of my heart for donating your money to a stranger who recognizes and appreciates it. I've found myself and I'm proud of myself. All my friends accept me, and that's all thanks to you. I truly appreciate all you've done. Every day I look outside my dorm window and I smile, because I'm so happy to be at ESF."