Office of Development


Virginia Weisar '21
Passionate about protecting the environment, Virginia Weisar graduated ESF in December '21. She's currently waiting to hear from graduate schools, where she will pursue an advanced degree in environmental engineering.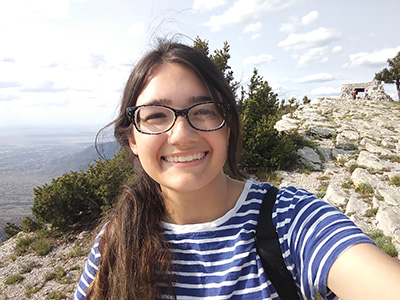 A Missouri native, Weisar began her college career at Fort Hays State University in Kansas, where she studied geography, GIS, and chemistry, for which she TA'd. "I wanted to continue to use GIS, but I wanted to do something more hands-on and innovative, like environmental engineering. Fort Hays didn't have engineering, and most of the places in Missouri just had civil engineering, with some environmental classes slapped on. Then I found ESF."
She happily transferred to ESF after two years at Fort Hays. "It took three planes to get from Kansas to Syracuse," she laughs. "Then I went to the accepted students event and thought, 'This is the coolest place I've ever seen in my entire life.'"
Weisar divided her time at ESF between classes and volunteer activities. She was an officer for the Bob Marshall club and revived the nearly defunct ESF chapter of the Society for Ecological Restoration, eventually becoming its president. The highlight, however, was a paid internship and scholarship with the American Conservation Experience. Living in a research station, she monitored changes to wetlands near New Mexico's Rio Grande using her GIS skills.
Weisar is grateful that ESF gives scholarships to out-of-state students. "Without scholarships, I would have stayed in Kansas. At ESF I'm surrounded by other people who also care about the environment, very quirky people and professors. I'm so grateful to the donors, because ESF has made all the difference in my life."