ESF became a Bee Campus USA affiliate in April 2022. The joint Bee Campus USA and Bee City USA programs are initiatives of the Xerces Society and are comprised of universities and cities across America that have pledged to protect wild pollinators and the critical services that they provide to our planet.
ESF has established a standing Bee Campus Committee as part of its program. This Committee will continually plan and lead volunteer planting opportunities on campus to expand pollinator habitat. It will also create and adopt an integrated pest management plan designed to reduce and/or negate the use of pesticides on campus. The use of pesticides on campus is already restricted to invasive and potentially harmful species removal, but this policy will formalize a long standing operational practice.
The Bee Campus Committee will also work with faculty members to offer and expand coursework and continuing education opportunities that incorporate pollinator conservation. The Committee has also worked to update educational signage on campus and will continue to do so as habitat expands.
Molly Jacobson, Native Pollinator Ecologist (Co-Chair)
Sue Fassler, Director of Sustainable Operations (Co-Chair)
Dr. Don Leopold, Distinguished Teaching Professor, Department of Environmental and Forest Biology
Dr. Catherine Landis, Postdoctoral Associate
Michael Vargason, Grounds Supervisor
Delaney Demro, Sustainability Planning & Institutional Alignment Manager
Olivia Kurz, PhD Candidate, Conservation Biology
Rachel Reycroft, Undergraduate Student
Actively Creating Habitat on Campus
During Earth Week 2022, the Bee Campus led its first campus planting and engaged students, faculty and staff in enhancing the long-standing Northern Hardwood Forest Restoration area near Illick Hall. Several woodland wildflowers that offer important pollen and nectar sources for spring-flying bees were added. A second supplemental planting took place in the Fall. A redesigned interpretive sign was installed and will soon be accompanied by species-specific plant identification signage.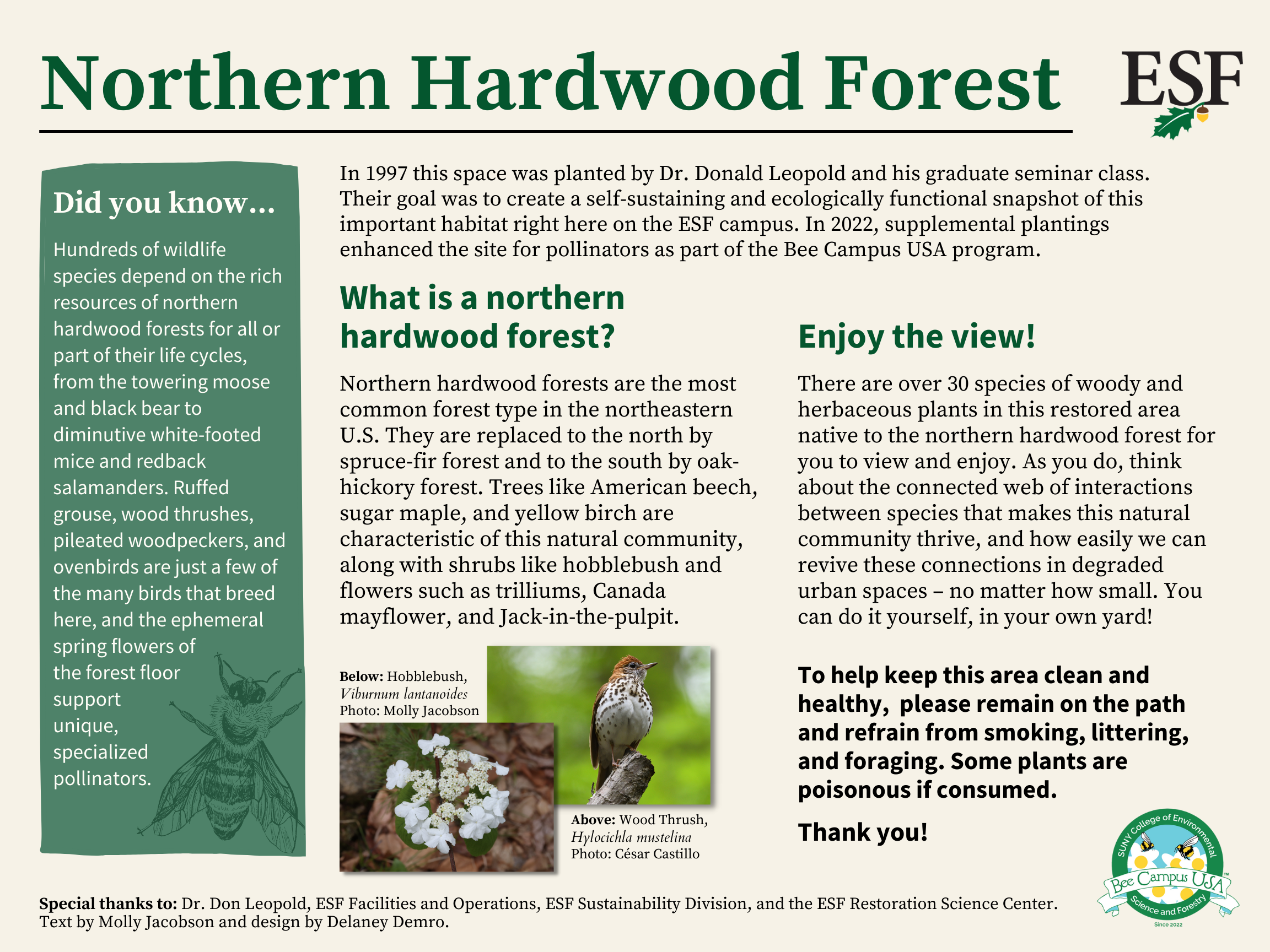 The sign above is installed in the Northern Hardwood Forest at ESF's Syracuse campus
The Bee Campus Committee also led the replanting of campus landscape beds located by the Robin Hood Oak during the Fall of 2022. Members of the campus community volunteered to plant approximately 180 plants (of 27 species) in the revamped garden. Molly Jacobson, Native Pollinator Ecologist, designed this new showpiece!
During the Fall 2022 semester, members of the Bee Campus Committee joined the Office of Sustainable Facilities & Operations and the Office of Sustainability in an interdisciplinary effort to design a series of unique and pollinator friendly landscaping beds, which will be planted along the north side of Illick Hall in late Spring of 2023.
The Bee Campus Committee will also be supporting ESF in its Nature Positive University efforts.
| | |
| --- | --- |
| Students assist during the Fall 2022 pollinator habitat planting by the Robin Hood Oak | Molly Jacobson, Native Pollinator Ecologist, stands proudly in front of the newly planted pollinator habitat |
| Pollinators love Molly! | A class uses the newly planted garden for an impromptu teaching moment |
Restoration Science Center
ESF's Restoration Science Center is a transdisciplinary and cross-departmental effort to restore degraded ecosystems and human relationships with the land. This Center has provided critical funding to our Bee Campus USA efforts and offers a variety of other resources and support to both the campus and larger communities. Furthermore, Molly is employed by the Center through generous funding provided by the Betsy and Jesse Fink Family Foundation.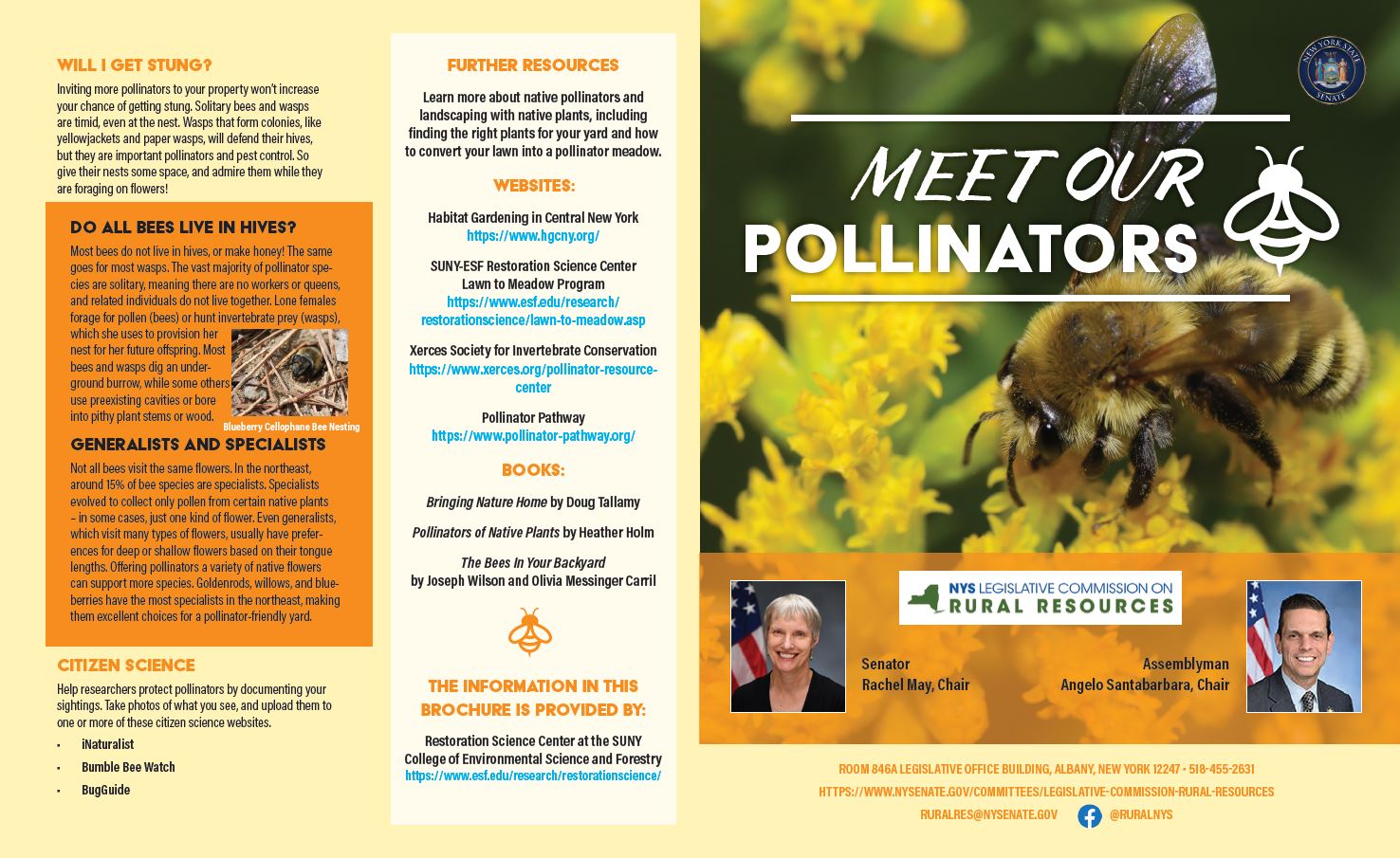 ESF's Restoration Science Center provided the information and photos found in the above brochure
Media