SUNY ESF


Zero Waste & Circularity
Zero Waste
We traditionally think about materials that are thrown in the trash as "waste" and therefore, they are assigned minimal value. The term "materials management" recognizes that all items have inherent value and are oftentimes created from finite resources (think traditional plastics) and harmful extractive practices. Sustainable Materials Management (SMM) challenges us to systematically rethink how we use (or avoid using) and reuse materials more productively throughout their entire lifecycle.
Instead of placing equal importance on "reduction", "reuse" and "recycling", SMM most heavily emphasizes source reduction (not using or producing something in the first place). All members of the campus community are encouraged to help in this effort by reducing what they purchase, reusing what they can and avoiding single use products, even if they are recyclable or compostable, to the greatest extent possible.
ESF Goals
ESF's zero waste goals include:
Reducing the "waste" that the College sends to landfill and/or incineration by 90% by 2025 (compared to 2018 baseline)

Achieving a diversion rate of 90% by 2025 (recycle and/or compost 90% of the items that we discard on campus

Obtaining

TRUE Pre-Certification

at the Syracuse campus (Portfolio)

Implementing and upholding the College's policies related to zero waste, including the

Green Purchasing and Break Free From Plastic Policy

and

Sustainable Facilities Maintenance and Renovation Policy

Deeply engaging with other institutions of higher education, SUNY and NYS to assist and lead the transition to circular operations state, region and nationwide
Zero Waste Progress
Since 2018, trash produced by all ESF campuses has declined from ~365,000 lbs to 214,850 lbs (41% decrease). At the Syracuse campus, trash during this time period declined from 235,000 to 92,000 lbs (61% decrease). The campus-wide diversion rate now stands at 52% with the Syracuse campus boasting a 65% diversion rate. In 2018, the campus-wide diversion rate was 28% and the Syracuse campus diversion rate was 31%.
Be sure to follow the live linked years in the spreadsheet below. Each linked year will take you to another spreadsheet, featuring tabs providing detailed campus by campus trash, recycling and compost data.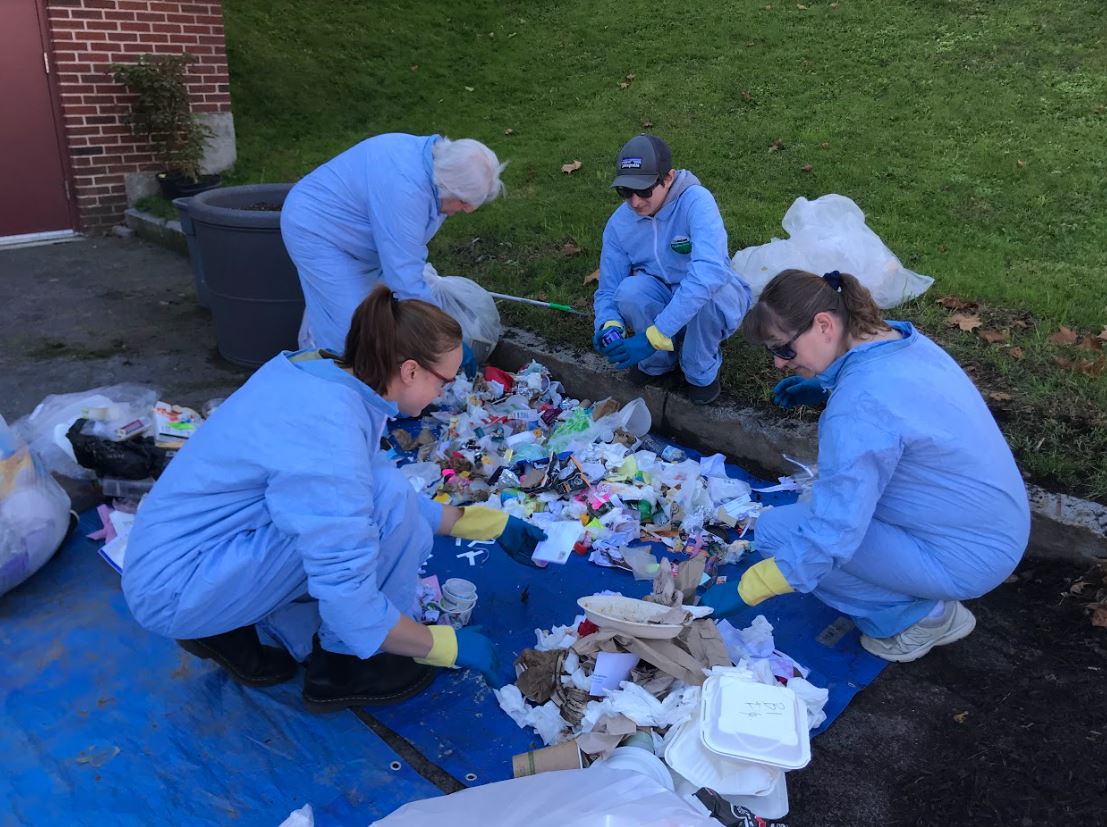 ESF staff conduct an audit during the Fall 2022 semester
Zero Waste Programs
The links included below will take you to associated project pages, which contain detailed information about each program.