SUNY ESF


Environmental & Social Justice
Environmental & Social Justice
ESF recognizes the tremendous need to fight for environmental and social justice on campus and beyond. Our goal is to create a diverse and welcoming campus environment, for people of all lived experiences, and to challenge all on campus to confront their biases, both those acknowledged and unconscious.
The Office of Sustainability actively collaborates with the Office of Inclusion, Diversity & Equity (OIDE) and prioritizes hiring student employees and Office staff members with diverse lived experiences.
We challenge members of the campus community to:
Attend OIDE led events,
Identify and acknowledge their implicit biases and actively work to adjust automatic patterns of thinking and overcome unconscious discriminatory behaviors and thoughts (Harvard's Project Implict tool will help you to identify your implicit biases),
Engage in environmental and social justice planning discussions on campus,
Learn from, amplify and advocate for those with perspectives different from their own,
Stand against problematic processes, conversations, and assumptions through direct action and discussion,
Participate in mentorship programs and provide opportunities for traditionally underrepresented people who are part of the campus community,
Incorporate environmental justice topics into their areas of influence (ex: coursework, club activities, hiring practices, program implementation etc.).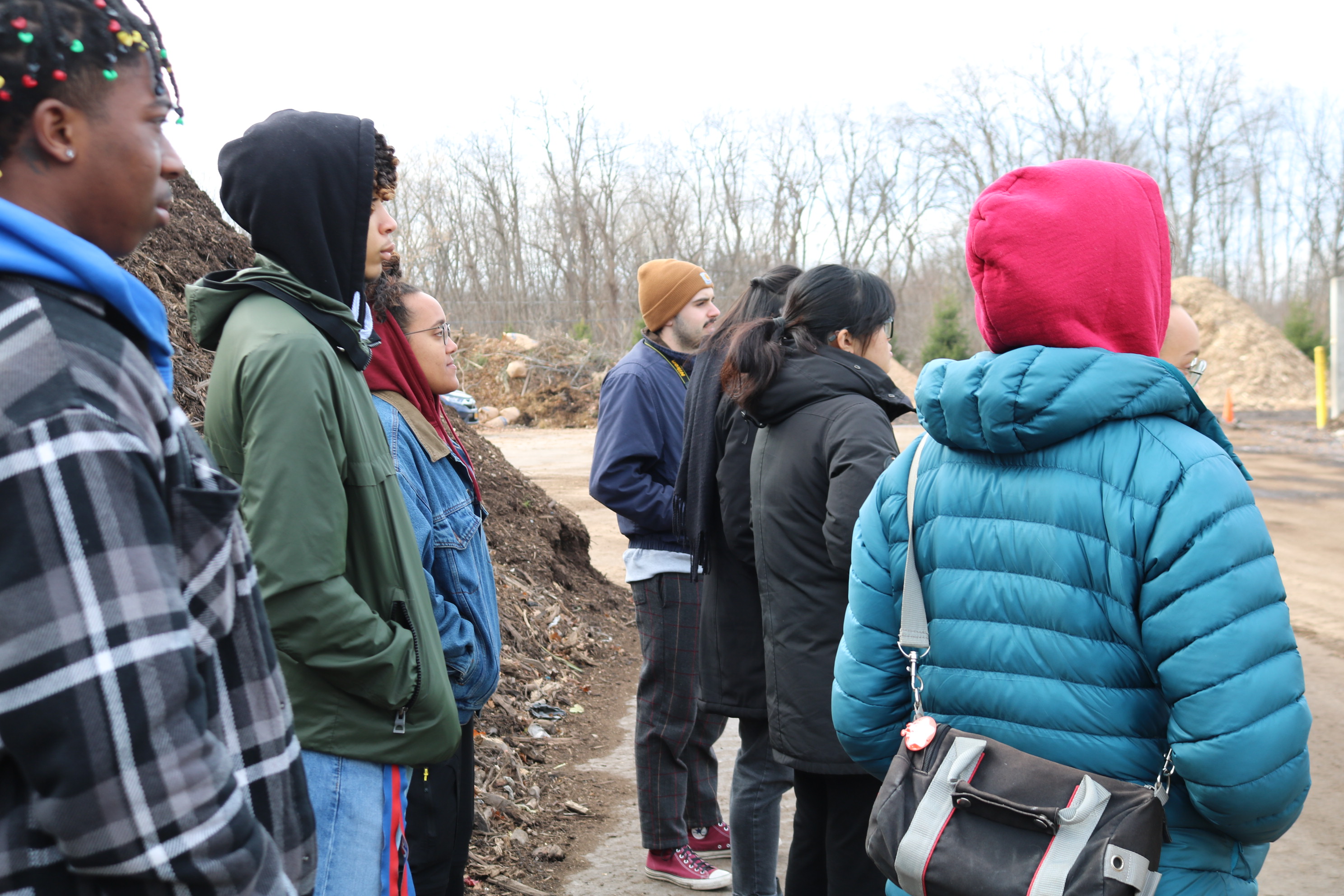 ESF students and staff tour OCRRA's industrial compost facility. Endless consumption and resulting discarded materials ("waste") are major environmental justice issues. Rethinking our consumptive and extractive economic model, reducing waste at the source and composting/recycling residual material are critical.
Environmental Justice
Environmental Justice is not a new concept. The Delegates to the First National People of Color Environmental Leadership Summit drafted and adopted 17 principles of Environmental Justice in October of 1991. These demands range from affirmations of the fundamental right to political, economic, cultural and environmental self-determination of all peoples to requiring that we make the conscious decision to challenge and reprioritize our lifestyles to ensure the health of the natural world for present and future generations.
Environmental justice communities are disproportionately impacted by the negative consequences of unbridled economic growth and resources extraction. They are more apt to be located near incinerators, landfills and brownfields and are more likely to be subjected to air and noise pollution, have less access to healthful and culturally appropriate food, are continually displaced by development and oftentimes have no voice in decision making processes.
Environmental Justice & Syracuse
The City of Syracuse has its own history of environmental injustice. The 15th Ward, located just east and south of Downtown, was the heart of the Black community during the 1950's. This community was decimated as a result of "urban renewal". This video offers more detail and historical context.
The ESF community is encouraged to learn the history of Syracuse and to be present and aware of the challenges and opportunities currently facing the community.
Integrating the SDGs
The Sustainable Development Goals (SDGs) center environmental justice and social equity. Plans are underway to facilitate a SDG 17 Rooms event on campus during the Fall 2023 semester. The goal of this immersive activity will be to audit campus awareness and embodiment of each SDG. The results of this dialogue will help to inform campus sustainability and diversity, equity, inclusion and belonging programming in the future.
Food Insecurity
Food insecurity, the state of having limited or uncertain access to food, is an issue on college campuses across the country. To address this problem, ESF established an on-campus food pantry for students who may be experiencing hunger and/or struggling to attain food due to financial hardships.
Louis Stokes Alliance of Minority Participation Program (LSAMP)
The Louis Stokes Alliance of Minority Participation Program (LSAMP) initiative supports historically underrepresented students in STEM.
This program offers:
Improved faculty/staff-student relationships through mentoring

Strengthened student-peer relationships

Increased early opportunities for first- and second-year students to participate in research as a complement to faculty's already strong involvement of upper-division students in research

Facilitated STEM transfer pathways from two-year to four-year institutions. Such programming will help prepare students for 21st century STEM careers through strong experiential learning and professional development activities
Many members of the Office of Sustainability serve as LSAMP mentors.
Student Employment
The Office of Sustainability offers many paid student employment opportunities. When available, jobs are posted on Handshake and on our Student Employment page.
Educational Opportunity Program (EOP)
The Educational Opportunity Program (EOP) is a college access program that supports talented NYS students who, due to challenging financial and educational circumstances, have not had the same opportunity as others to achieve their academic potential.
EOP at ESF is designed to provide financial and academic supports to allow students to realize their educational goals and contribute uniquely to their academic fields. Our EOP students join thousands of EOP alumni who have earned college degrees across New York and, through meaningful careers, contribute to the social and economic health of our state.
Interested in Learning More?
Many ESF classes feature or focus upon environmental and social justice. Below are just a few examples. Staff and faculty members are encouraged to take or audit these courses too!
EFB 220: Urban Ecology
EST 415: Environmental Justice
EST 615 Environmental Justice: Policy, Tools & Society
EST 616 Global Perspectives on Environmental Justice
EST 708 Social Theory and the Environment
SUS 440 Environmental Justice: Policy, Law, & Society