Sustainability at ESF


Food & Events
The food that we eat and events that we host on campus have the potential to be impactful on many fronts. Through these activities, we can showcase and celebrate our cultural diversity, gather to build community and minimize our environmental impact.
Sustainable Event Certification Program
The Office of Sustainability offers a Sustainable Event Certification program and associated resources to the campus community. Events on our campuses are the perfect opportunity to "practice what we teach" by incorporating many different elements of sustainability, such as:
Inclusion, diversity and equity
Sustainable decor
Local and culturally appropriate food
Energy, water and carbon reduction
Zero waste and circularity principles
Sustainable transportation
Planners who wish to achieve certification for their event should review our Sustainable Event Certification Guide, complete selected program elements and submit a Sustainable Event Certification Form to least two weeks prior to their event.
Please note that compliance with ESF's Green Purchasing and Break Free From Plastic Policy and Executive Order 18 (Ban of Plastic Water Bottles) is a prerequisite for certification.
Visit the Sustainable Event Certification project page for more detailed information about this program and to view a list of events that have achieved certification.
Elements of this program align deeply with the College's Green Purchasing and Break Free From Plastic Policy and planners are encouraged to use the College's Green Purchasing Guide as a resource.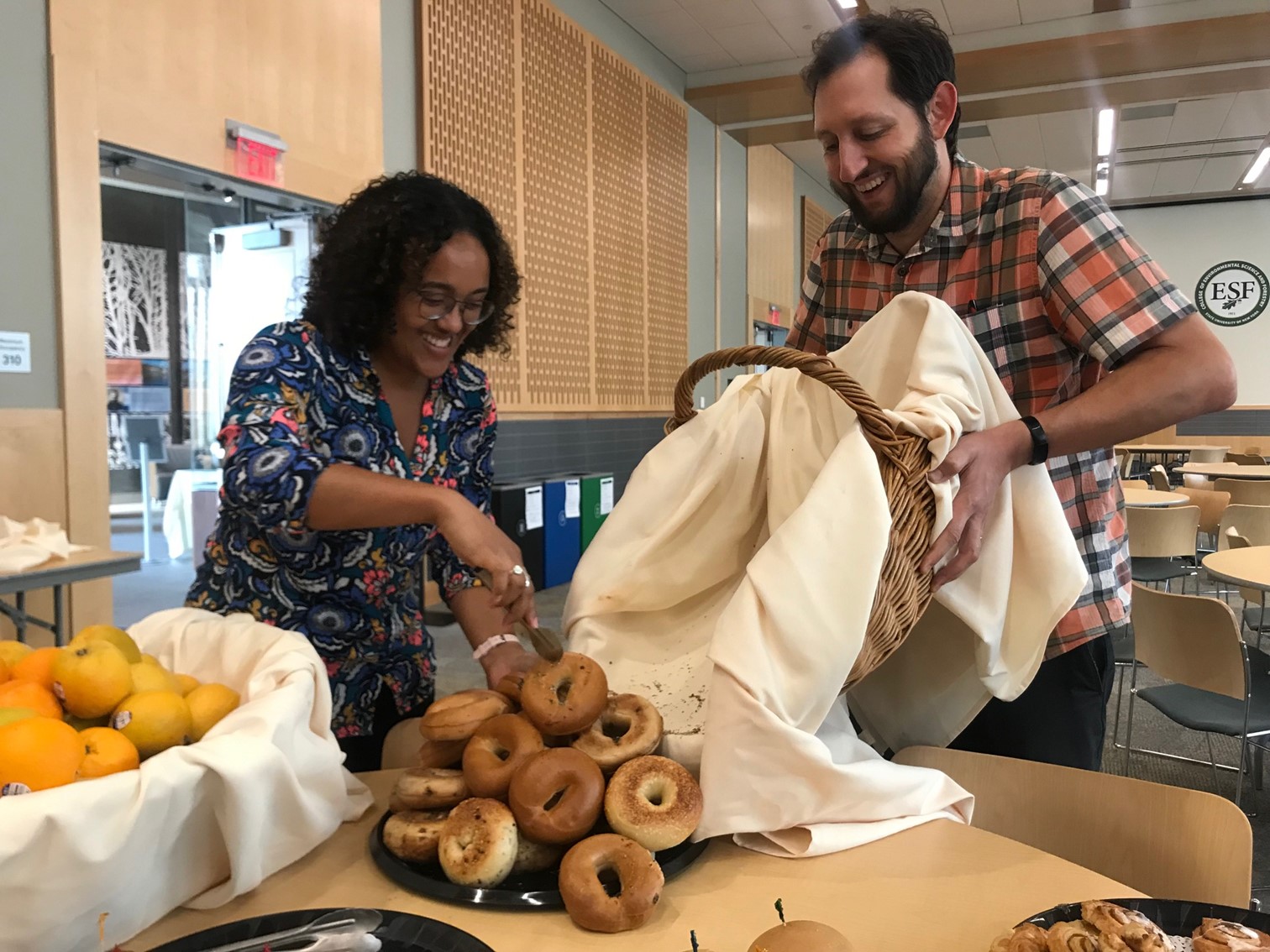 Office of Sustainability staff gather food left over after a conference to provide to students for free
Reusable Plate Program
Hosting an event with food? While single use compostable products are able to be purchased and used on campus, we encourage event planners to heavily prioritize the use of reusable dinnerware above all else! Reusable plates, cups, and utensils are available through the Reusable Plate Program (RPP). This program is brought to the campus community by the Mighty Oak Student Assembly (MOSA).
Students, faculty, and staff can use the program, as long the dinnerware is reserved ahead of time and washed after the event (dishwasher in Bray 2). Review the RPP Guide and reservation calendar before reserving your dinnerware. Please note that you must complete a Return Form upon event completion.
Baker 408 is also stocked with reusable dinnerware and a dishwasher. So if you are hosting an event in that space, please take advantage of these amenities.
Visit the Materials & Purchasing page for more information about ESF's zero waste programs.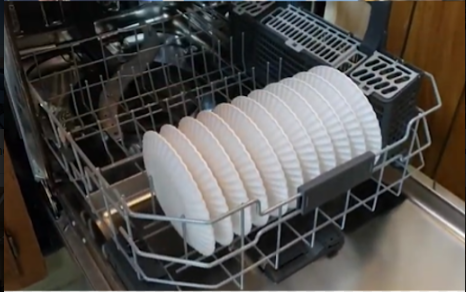 Beth's Bounty (Food Pantry)
Food insecurity, the state of having limited or uncertain access to food, is an issue on college campuses across the country. To address this problem, ESF established an on-campus food pantry for students who may be experiencing hunger and/or struggling to attain food due to financial hardships. The pantry is located in the basement of Bray Hall in Room 3A. Beth's Bounty webpage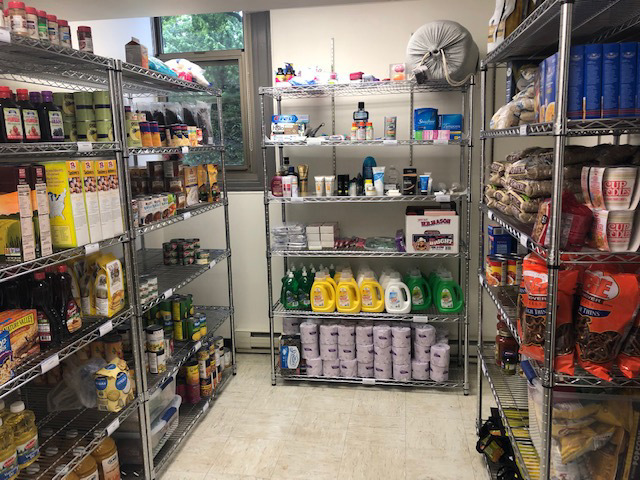 Trailhead and Moon Cafes
ESF's Syracuse campus is home to two Cafes. The larger Trailhead Cafe is located in the Gateway Center and a smaller cafe can be found in Moon Library. These cafes offer vegan and vegetarian friendly dining options and are working to expand local food sourcing. The Office of Sustainability deeply engages with cafe management to mutually define and implement a wide range of actions necessary to meet the College's zero waste and sustainability goals.
Food Recovery Network
The Food Recovery Network (FRN) has the dual mission of feeding people and reducing food waste. The ESF/SU Food Recovery Network is one of the largest chapters of FRN in the U.S. Student volunteers conduct daily recoveries to get surplus food to community members in need.
There are around 20 weekly recoveries in which volunteers can participate, and students can volunteer as much or as little as they please. FRN strives to improve the betterment of our Syracuse community, while providing our members with valuable volunteer experience and awareness about sustainability and food waste. Visit the Club's engagement page for more information.
Student Garden
The picturesque grounds at ESF's Lafayette Road Experiment Station (LRES), four miles south of the Syracuse campus, are home to the student garden. Each year the garden provides job opportunities for multiple students. These students lead garden maintenance and upkeep. This includes all basic tasks such as planting, weeding, mowing, and general plant and space management.
The garden is divided into three distinct sections:
an annual vegetable garden;

a small orchard of fruit trees and shrubs;

and a perennial edible forest garden.
Visit the Student Garden project page for more information about this unique experiential resource.