Sustainability at ESF


Transportation
Members of the ESF community have access to many modes of transportation in the Syracuse area. From electric vehicle charging stations on campus, to electric bikes and scooters to buses - we've got it all! Interested in offsetting your emissions related to transportation in general? Check out the carbon offset section of our Sustainable Event Certification Guide.
Electric Vehicles
ESF has a number of EV charging stations at its Syracuse campus, some available for ESF parking permit holders only and some open to the general public. ESF only stations are available by the Physical Plant, Baker Lab and Bray/Walters Hall. Stations open to the general public are located in Lot P22. EV stations charge a fee of $.20/kwh, one of the most affordable rates in the region! Visit the EV Charging Station project page for more information.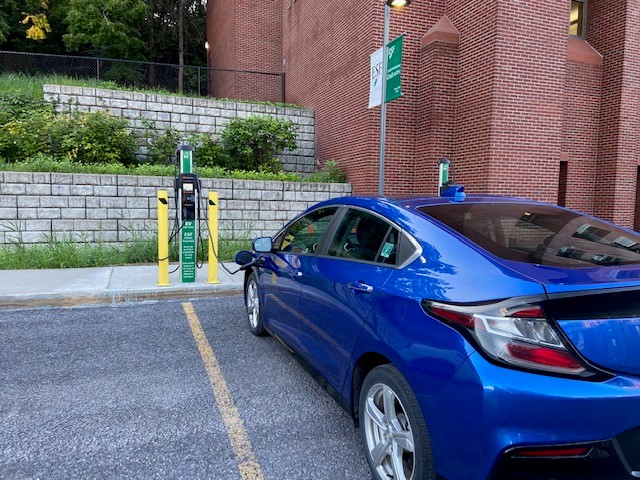 This charging station, located near Bray and Walters Hall, is reserved for members of the ESF campus community.
ESF's vehicle fleet features two fully electric vehicles, one used by the Office of the President and one by our University Police Department. Our Facilities and Operations staff also have access to smaller electric vehicles for use around campus.
Bikes and Scooters
Bike culture is big at ESF! We have a bike library program, along with a multitude of places to safely lock your bike on campus. Five bicycles are located outside of Moon Library and are available to rent for 24 hours at a time. Rental to ESF students is free and bikes are rented from Moon Library with the swipe of an ESF ID card. Visit Moon Library to complete forms and view a short (10-15 minute) safety presentation.
The City of Syracuse has a bike website including information about local events, resources, infrastructure and its Bike Plan. The Onondaga Cycling Club offers route maps and is a great resource for meetups, events and activities.
Veo offers "micro mobility" solutions to the Syracuse area through its fleet of electric bikes and scooters.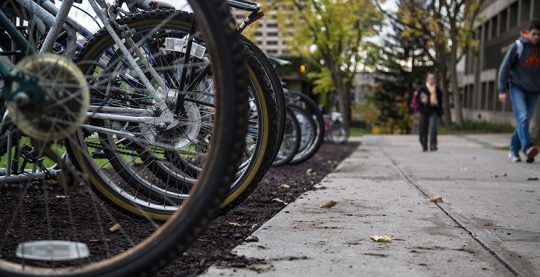 Bike parking abounds along the edge of ESF's quad
Public Transportation
Centro offers a network of services in the CNY area and has a Transit Hub located in downtown Syracuse. Visit their website for more information about special event routes and services, view the most up to date schedules and maps and learn about connecting services to Amtrak, Greyhound, MegaBus and Trailways. The Centro bus schedule can seem a bit confusing at first, but they offer a travel training program to help.
ESF's Office of Sustainable Facilities & Operations owns and operates two buses. They can be reserved by members of the campus community at a very affordable rate.
Members of the ESF campus community are able to access and use many services at Syracuse University. Visit SU's Campus Shuttle Schedules page for trolley and bus schedules and interactive route maps.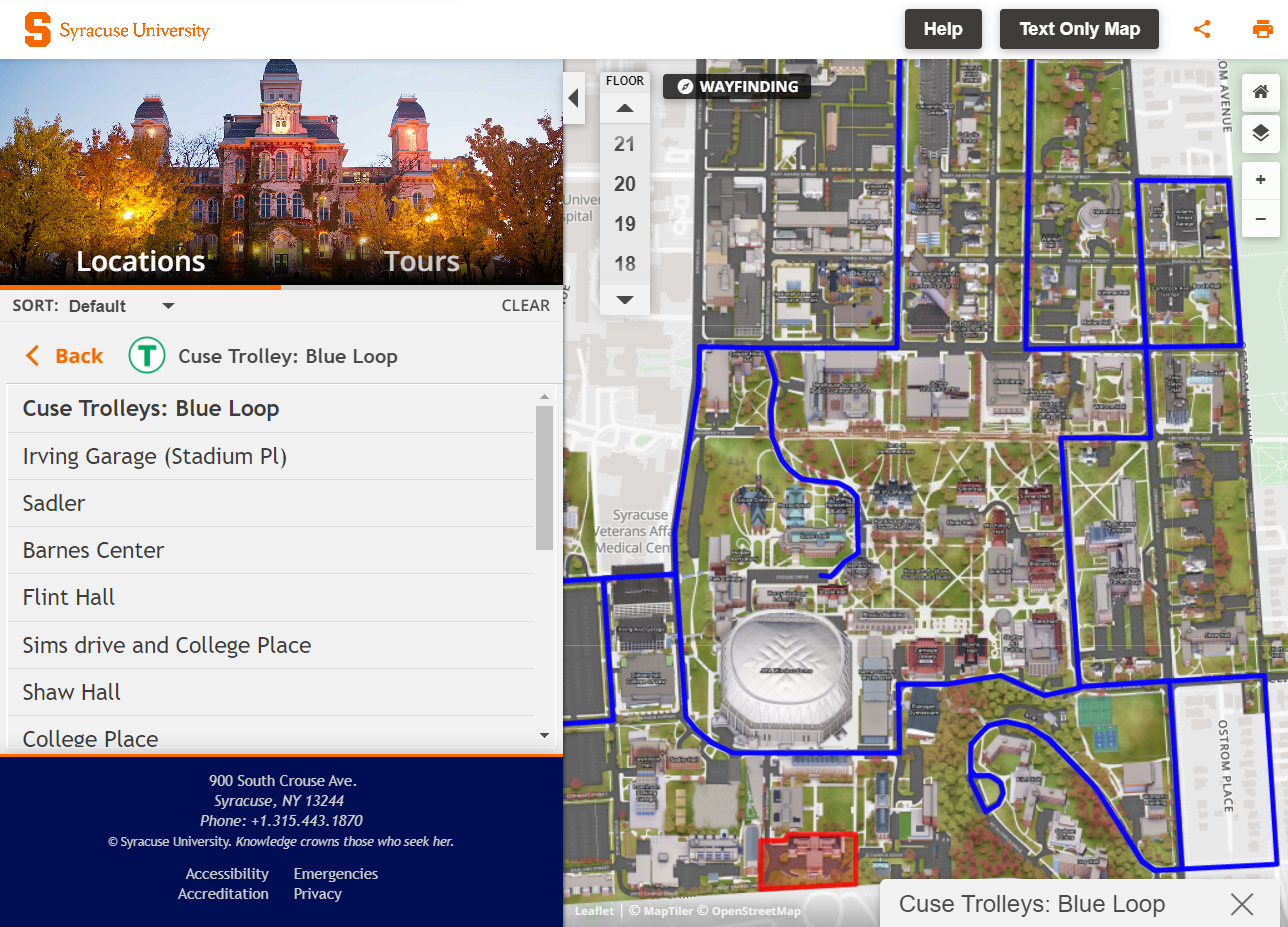 The resource below will show you how to read a bus schedule: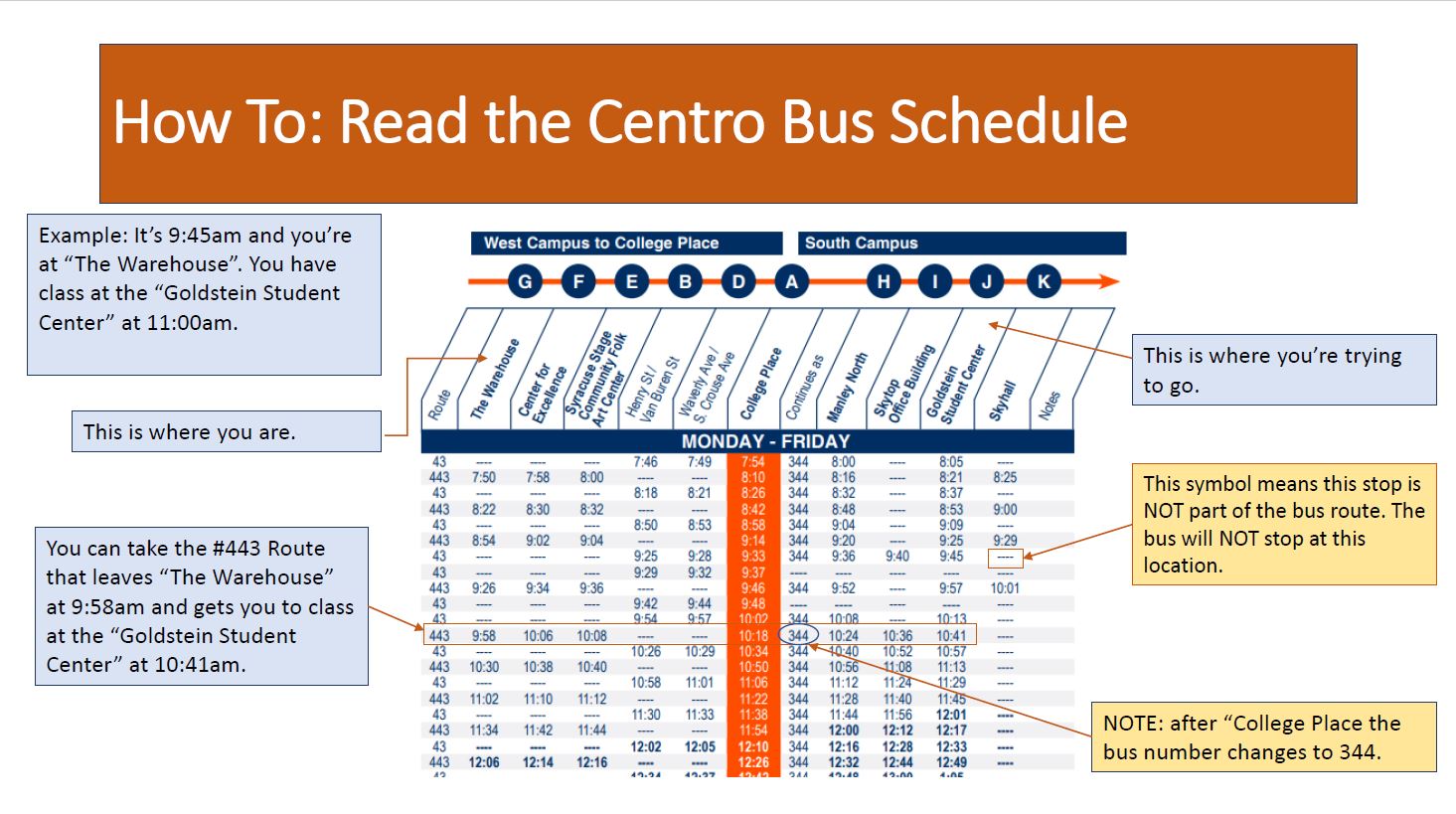 Commuter Survey
The Office of Sustainability issues a commuter survey every two years as part of its STARS reporting process. The most recent survey was conducted in February 2022 and was sent to approximately 2,500 campus community members (faculty, staff and students), garnering a response rate of ~21%.
The survey showed that 59% of students, 17% of staff and 50% of faculty use a more sustainable commuting option as their primary mode of transportation to and from campus (walking, cycling, van/carpooling, public transit, campus shuttle, scooter, motorcycles, zero emissions vehicle or distance learning/telecommuting).