SUNY ESF


Sustainable Event Certification
The Office of Sustainability offers a Sustainable Event Certification Program to help campus event planners host a sustainable event, right from the beginning of the planning process. Events attaining a certain threshold of sustainability can be awarded "Certified" or Platinum" event status.
Designed for events of any size, ESF's Sustainable Event Certification program makes it easy! Our Guide features a checklist, local restaurants and caterers, a list of alternatives to typical event giveaways and information about carbon offsets.
Sustainable Event Guide
Get started with our step-by-step guide to incorporate sustainable practices at your event.
Event Consultation Meeting
Schedule a 30 minute event consultation meeting with the Office of Sustainability and we'll help you plan your event certification.
Not looking to download the entire Guide? You can download sections below:
Get Certified
Getting your event certified as sustainable is easy! Complete the short form below at least 2 weeks before your event. If approved, you will receive marketing materials to advertise your sustainable efforts to event attendees and the campus community. Single or recurring events of any size can be certified.
Please note that compliance with ESF's Green Purchasing and Break Free From Plastic Policy and Executive Order 18 (Ban of Plastic Water Bottles) is a prerequisite for certification.
Two Levels of Certification
Earn 40% or more of the applicable points, with at least one point in 4 categories, and receive the Sustainable Event Certification.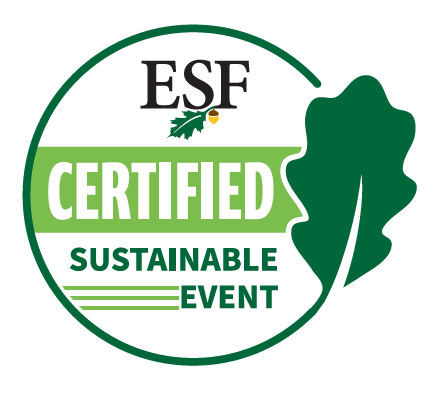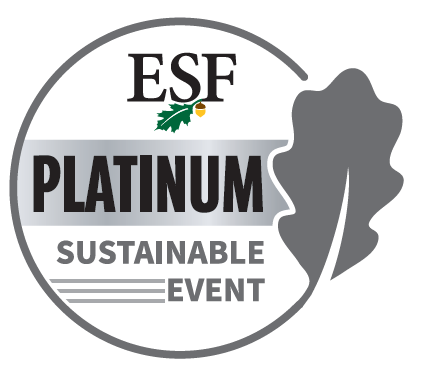 Want to go above and beyond? By earning 70% or more of the applicable points, with at least two points in 5 categories, you will receive the Platinum Sustainable Event Certification.
Reusable Plate Program
Hosting an event with food? While single use compostable products are able to be purchased and used on campus, we heavily prioritize the use of reusable dinnerware above all else! Reusable plates, cups, and utensils are available through the Reusable Plate Program (RPP).
Students, faculty, and staff can use the program, as long the dinnerware is reserved ahead of time and washed after the event (dishwasher in Bray 2). Review the RPP Guide and reservation calendar before reserving your dinnerware. Please note that you must complete a Return Form upon event completion.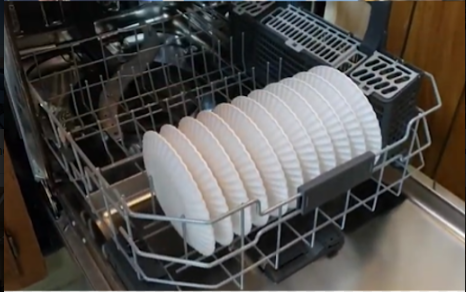 Baker 408 is also equipped with a refrigerator, dishwasher and reusable dinnerware. Please note that these amenities are only available for use in relation to events held in Baker 408.
Past Sustainable Events
Certified
CNY Youth Climate Summit (2023)
EcoReps Sustainable Cooking Night (2022)
Thank Goodness Its Almost Over (TGIAO) (2022)
Shrekbuster (2022)
Platinum
Study Abroad Fair (2022)
Locally Sourced: Municipal Green Policy Solutions Conference (2022)
Homecoming (2022)
Campus Crunch (2022)
December Soiree (2022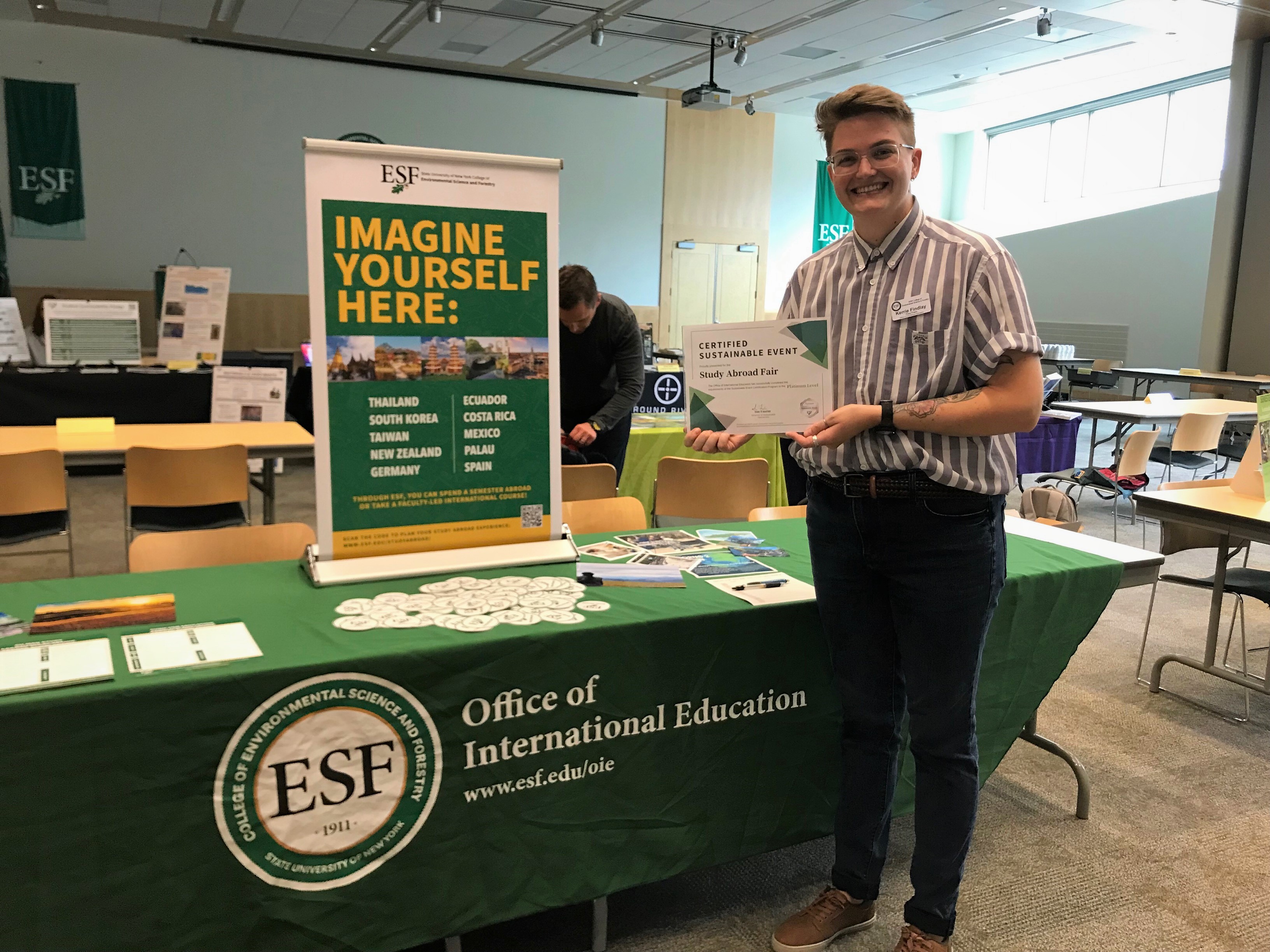 Kerrie Findlay, Office of International Education, proudly holds a well deserved Sustainable Event Certificate for the 2022 Study Abroad Fair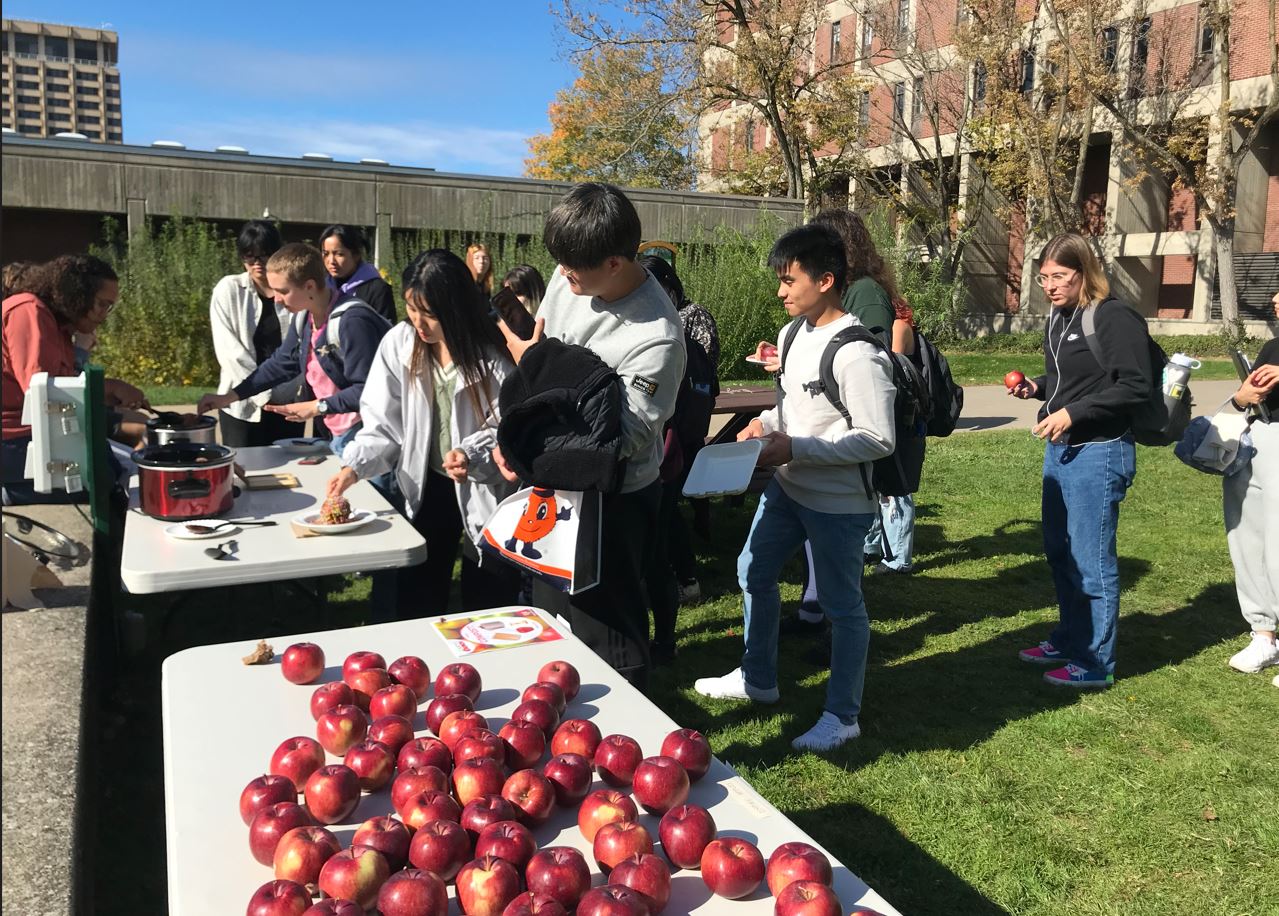 Students excitedly wait for their turn to dip a locally grown apple into caramel and/or chocolate at the 2022 Campus Crunch event