SUNY ESF


Green Purchasing and BFFP Policy
The College adopted its Green Purchasing & Break Free From Plastic Policy in November 2021. In doing so, it became the first SUNY school to largely ban the expenditure of state funds to purchase most single use plastics for use on campus or at College events. The Policy also reiterates ESF's commitment to abiding by NYS Executive Order 4 and NYS Executive Order 22.
Visit our Green Purchasing Guide project page to learn more about this incredible implementation tool, which assists campus purchasers in complying with ESF and NYS policies.
The Office of Sustainability offers assistance in researching, procuring and funding durable/reusable products as well as environmentally friendly alternatives (ex: compostable) to common single use products. If you are planning an event on campus or are gearing up to make a purchase of any size, please reach out to us!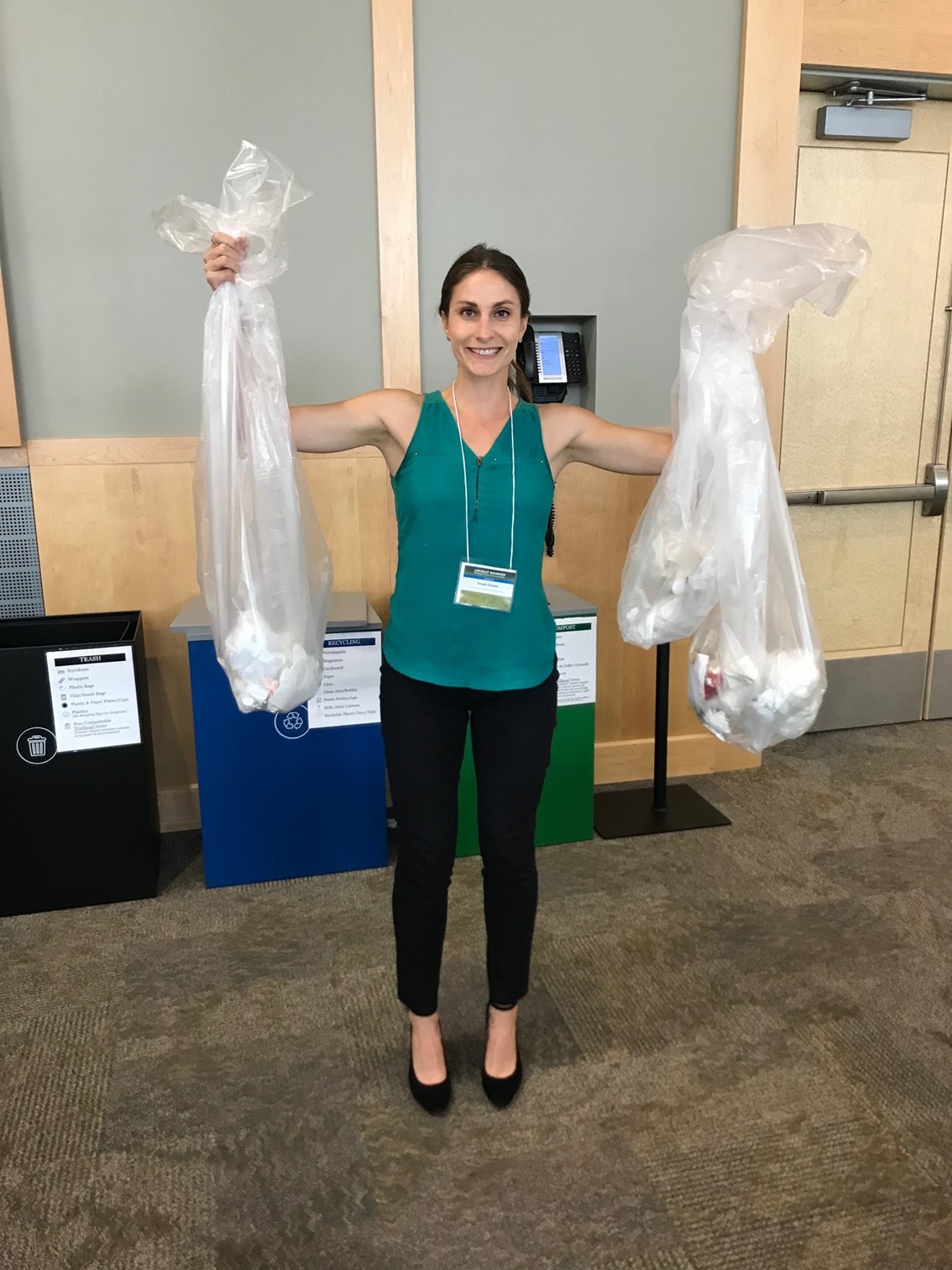 A 200 person conference held at ESF served breakfast and lunch to attendees. Reusable dinnerware was used, compost was available and bulk purchasing was prioritized, resulting in the very small amount of trash you see above.
Policy Specifics
State funds are no longer able to be used to purchase the following items:
Single use plastic utensils;
Single use plastic straws and stirrers;
Single-use plastic food service ware (cups, plates, bowls, trays, sauce dishes, lids etc.);
Single-use plastic clamshells and to-go containers
All polystyrene (Styrofoam and similar) food service products;
Single-use plastic-lined cups and bowls (coffee cups, soup bowls, snack boats etc.);
Single-use plastic-wrapped condiments, sauces, and seasonings (butter, jelly, peanut butter, creamers, sugars, salt, pepper etc.);
Individually-packaged items with bulk alternatives (napkins, oyster crackers, mints, toothpicks etc.);
Individually wrapped fresh baked goods;
Single-use hot beverage packets unnecessarily packaged in plastic (K-cups, plastic wrapped tea bags, etc.);
Plastic shopping bags;
Plastic-wrapped giveaways.
Exemptions:
Pre-packaged plastic wrapped retail items (chip bags, granola bar wrappers, candy bar
wrappers, toiletries etc.);
Plastic trash and recycling bags;
Plastic wrap for use during food prep (this does not refer to individually wrapped food items, as noted above);
Plastic and polystyrene (Styrofoam) packing material from incoming orders;
Plastic packaging from external caterers;
Single-use plastics used in academic setting (lab equipment etc.);
Single-use plastics necessary for health and safety purposes (medical plastics etc.)
Single use paper items coated in plastic are not able to be used as a substitute for the products listed above.
Campus community members using non-state dollars to purchase materials are encouraged to follow the Policy.
All purchasers are encouraged to use durable, reusable and washable items to replace single use items. Single use compostable products are able to be purchased with State dollars and used on ESF's campuses. However, they must be certified by the Biodegradable Products Institute. In all instances, reusable alternatives should be favored over single use compostable items. All members of the campus community are welcome to participate in our Reusable Plate Program.
Visit our Zero Waste & Circularity and Recycling and Compost pages to learn more about our zero waste and circularity programs, as well as how to property sort material on campus.