SUNY ESF


Sustainable Facilities Maintenance & Renovation Policy
Sustainable Facilities Maintenance & Renovation Policy
ESF adopted its Sustainable Facilities Maintenance & Renovation Policy in November 2021. This Policy sets ESF's construction and demolition debris recycling diversion rate goal at 90%. This is more strict than the SUNY Construction Fund's goal of 50% material diversion.
The Office of Sustainable Facilities & Operations uses tracking logs to work with contractors and in house staff to track compliance with the Policy. Recycling markets for every material produced as a byproduct of construction activities can be difficult to identify. The College updates a spreadsheet of locally recyclable C&D materials on an ongoing basis. If you are aware of other recycling opportunities in the Central New York region please reach out!
The Policy also sets sustainable purchasing targets for maintenance and renovation activities. These targets are based upon the NYS GreenNY (Executive Order 4) program. Explore our Green Purchasing & Break Free From Plastic Policy to learn more about sustainable purchasing as a whole at ESF.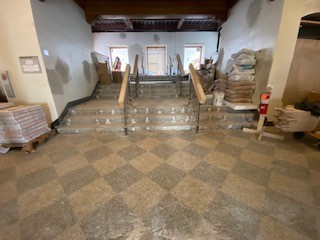 Image of the renovation of Marshall Hall, which is seeking LEED Gold (BD+C)