SUNY ESF


Heiberg Memorial Forest
Named after ESF professor Svend O. Heiberg, Heiberg Forest is located 25 miles south of Syracuse, New York in the Towns of Tully, Pompey, Truxton, and Fabius. The 3,800-acre property serves as an outdoor classroom and laboratory for teaching, research, and demonstration. There are 18 miles of roads and trails, five ponds, and a scenic overlook that provide ample opportunities for recreation and wildlife viewing.
Maple Syrup
Maple season is our favorite time of year at Heiberg Forest. There are nearly 2000 taps in our 20-acre sugarbush.
Maple syrup is available for purchase from the ESF Bookstore, or at the Heiberg Forest Main Office.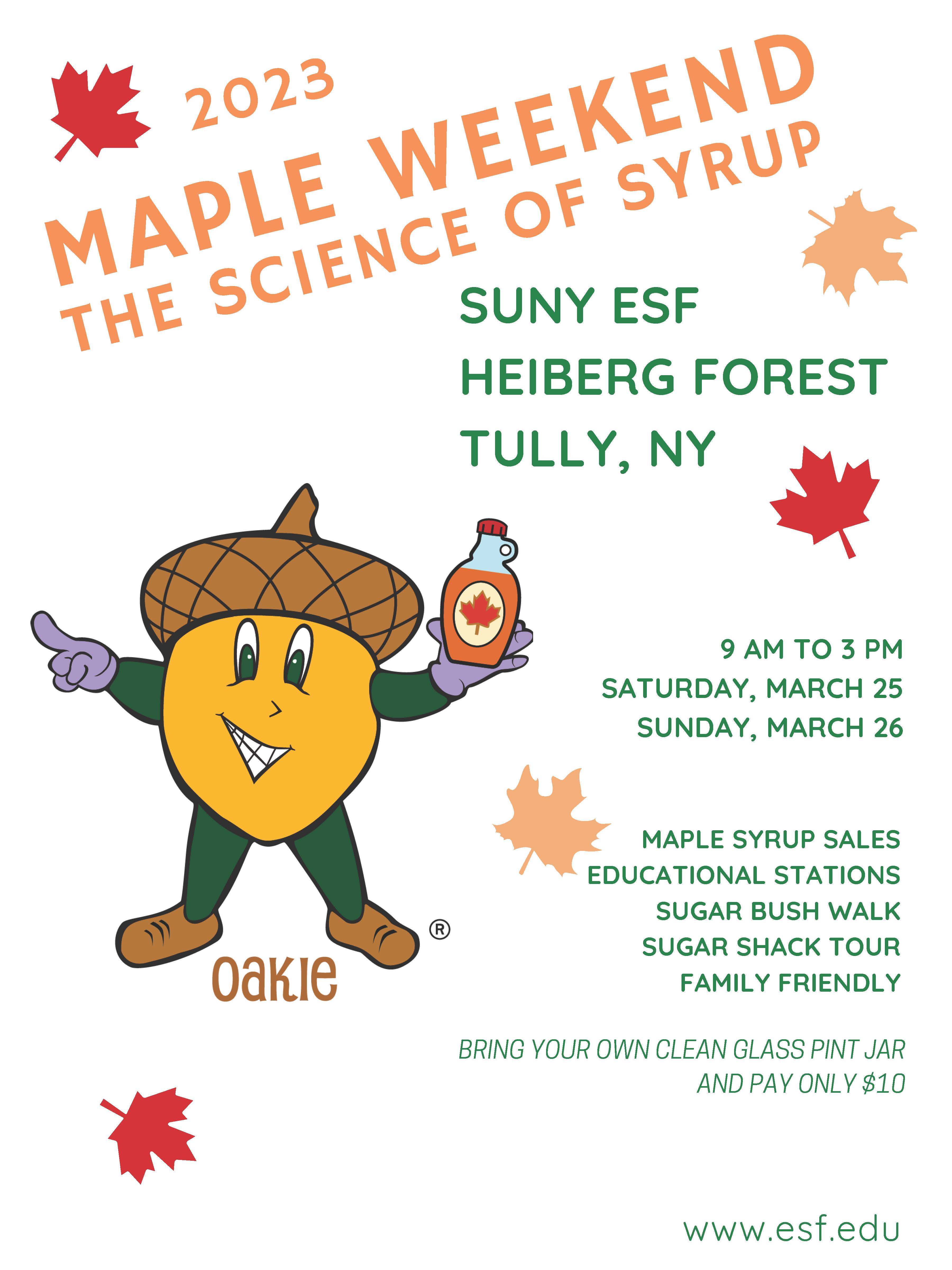 Recreation
Public recreation is permitted at Heiberg Forest so long as it does not conflict with teaching and research projects. Look for the trail signs like the one pictured to the left for the approved activities, rules, and safety instructions for each trail. Well-behaved, leashed dogs are welcome.
Hunting
Hunting is prohibited in any area marked with a "Safety Zone" sign or in any area where active teaching or research is taking place. Non-hunters may encounter hunters during their visits. Always be aware of your surroundings and be respectful of all users of the property.
Follow all New York State Department of Environmental Conservation (DEC) hunting regulations. The DEC highly recommends ALL hunters wear a fluorescent orange hat, vest and/or coat while hunting. More hunter safety tips can be found here. Hunting regulations, as well as information on how to obtain a NYS hunting license can be found on the DEC website. Heiberg Forest is located in Wildlife Management Unit 7M.
Snowmobiling
There are over 5 miles of snowmobile trails at Heiberg Forest maintained by the Truxton Trailblazers snowmobile club.
Firewood
The firewood produced at Heiberg Forest comes directly from our sustainably managed forest as a byproduct of our forest management. Its primary use here at Heiberg is to heat our 6,000 sq.ft. maintenance garage and our wood-fired evaporator in the sugar house during maple syrup production season.
A limited quantity of firewood is available to the public for purchase. As this firewood is untreated, firewood must not be transported greater than 50 miles from Heiberg Forest. Buyers must pick up their firewood at Heiberg Forest. Delivery is not available. Dump trucks and dump trailers can be loaded directly from the firewood processor. Pickup trucks and small trailers must be loaded by hand.
Current Prices:
Hardwood firewood (ash, maple, and cherry): $60/ton
Hardwood "blockwood" (not processed): $18/ton
Softwood firewood (limited availability): $18/ton
Allowable Uses
Day-use area. Open from sunrise to sunset.
Authorized vehicles only.
Do not park in front of gate.
Dogs must be kept on a leash and under control.
No dirt bikes, ATV's, UTV's, golf cart allowed.
Snowmobiles must remain on marked trails.
Do not disturb teaching and research sites.
Stay out of restricted areas.
Campfires not permitted.
Leave no trace. Carry out all trash.
Respect other trail users. Share the trail.